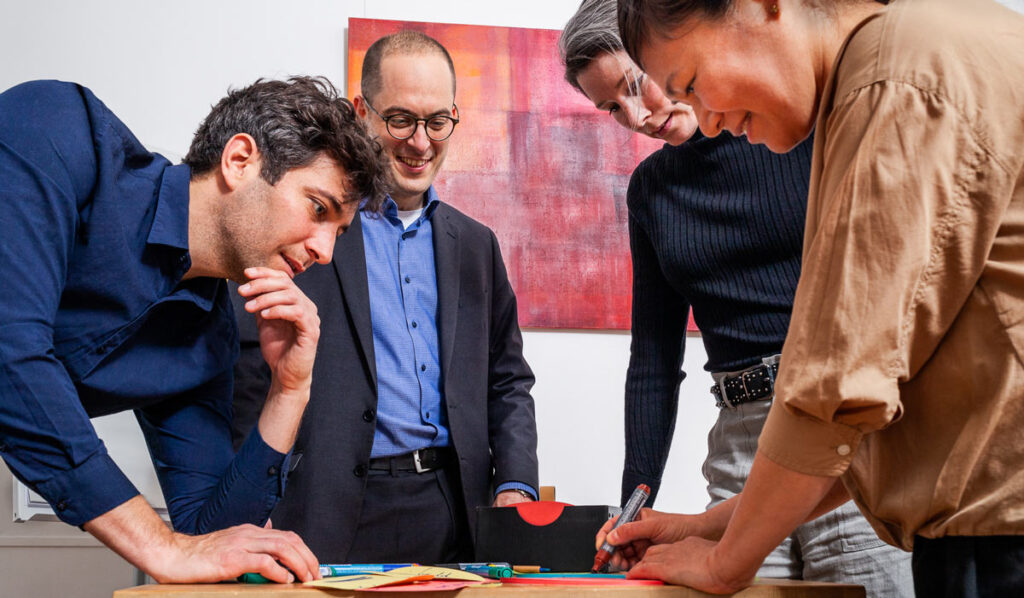 Mediation in Berlin
Professional mediation, counseling and conflict resolution for teams and families. Whether professional or private, I help you to talk constructively with each other and to make important decisions together. This allows you to clarify misunderstandings, represent your interests and reach meaningful agreements.
In the mediation process, you take responsibility for how you want to live, work and deal with each other in the future. This can be exhausting, but the effort is worth it, because a constructively resolved conflict strengthens the relationship between the parties involved and leads to more satisfaction and success. If you decide to take this path, I will accompany you step by step until you reach your goal, both in your business and private life.
Structured process & proven principles
Mediation is a structured process and follows proven principles. These include the fact that, as a mediator, I neutrally represent the interests of all parties involved and am bound to secrecy. You decide for yourself what you talk about and what agreements you reach, and thus retain control over your concerns.
At the beginning, we get an overview of the current situation and your goals. Then the different perspectives, goals and interests are worked out. In the next step, we collect possible solution options from which you can choose at the end. At the end there are concrete agreements that you are convinced of.
The structure and principles can be flexibly applied to different situations, anywhere people communicate with each other and are fundamentally interested in a good relationship.
For teams and organizations
Colleagues spend a lot of time together at work and depend on each other to perform their tasks. At the same time, the goals and objectives of the company must be taken into account. The interrelationships and processes are complex and there is often little time for extensive discussions in everyday working life. This can easily lead to misunderstandings, irritations and conflicts.
In a team mediation you can openly address problems and find suitable solutions. To this end, we clarify right at the beginning who is to take part in the talks and which topics are to be discussed. It is also important how confidential information is handled and what information may be passed on to superiors and colleagues.
The main advantages are that you have a great deal of creative freedom and influence on the result.
Mediation in a professional context is similar to supervision or team coaching. The transitions between these procedures are fluid.
For couples and families
Family or couple mediationis a classic area of application and is very widespread in Germany. This is due to the fact that on the one hand many conflicts occur in families and on the other hand there is a great interest in peaceful solutions and a preservation of the relationship. One can only choose one's family to a limited extent and the personal happiness of many people depends on the family. Translated with www.DeepL.com/Translator (free version)
In family disputes, the advantages of the process come into their own. The family members themselves know best what is good for them. They just have to find a way to reconcile the different wishes.
I am certified by the Federal Association for Family Mediation (BAFM) and a member of the Berlin Mediation Center (BMZ).
International and Intercultural Mediation
As a specially trained Intercultural Mediator and Cross-border Family Mediator, I offer intercultural mediation in German, English and Japanese for international teams and binational couples and families. In doing so, I consider cultural aspects as additional perspectives to promote mutual understanding.
In a sense these are specializations of the offers for teams and families.
In international cases, I work with partners in Germany, Singapore and Japan. These include the MiKK association in Berlin, PracticeForte Advisory in Singapore and the Japan International Mediation Center in Kyoto.